November 23rd, 2009
Comments off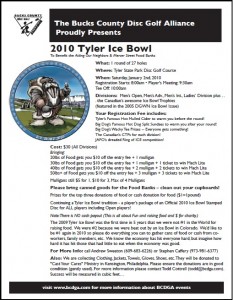 2010 Ice Bowl Flyer PDF
To all,
After four years as #1 for total food collection by weight we were relegated to #2 last year by a club in Colorado…
WE WANT TO BE #1 AGAIN!!!
but #2 is ok if we collect food for those less fortunate… anything will make a difference is some people's lives.
See attached flyer which will soon be up at the course and on-line, but in the meantime please forward to as many of your friends as possible to get them to donate.
Remember, we will take food donations from anybody, and we can convert cash to food!
Let's make this a banner year!
Stephen.